About
Mapollage is a photo kml generator for Google Earth.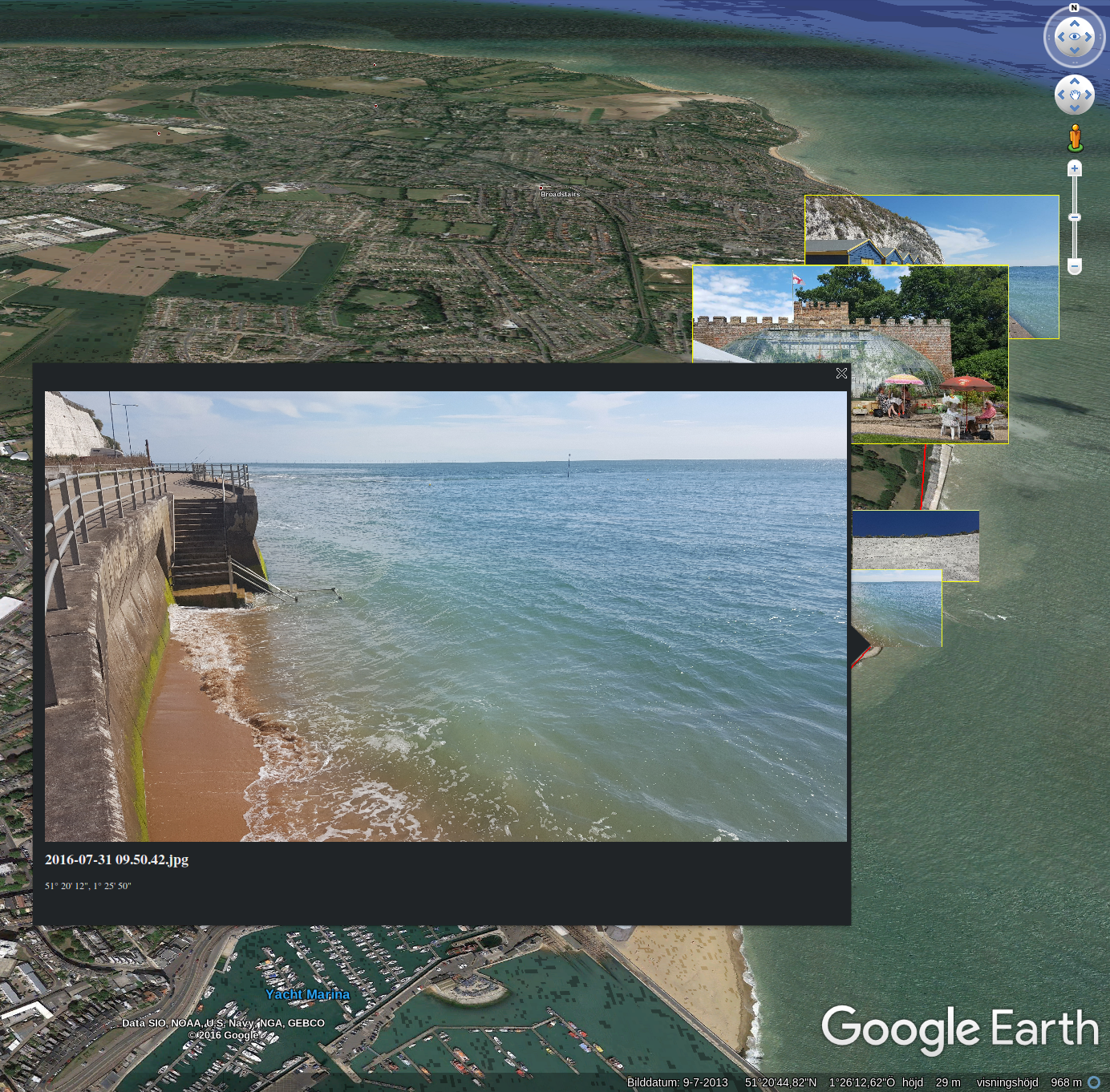 Features
Mapollage is free software licensed under the Apache Licence, Version 2.0
Mapollage runs on Linux, MacOS and Windows
Create kml folders by directory name, date pattern and regex
Name placemarks by filename and date pattern
Use a photo or a pin as a marker
Dynamic description generator
Customizable photo reference
Draw path between placemarks
Looking for more details? Have a look at the documentation.
Download
Get your copy from the github release page.
Mapollage depends on Java 11 with JavaFX.
Screenshots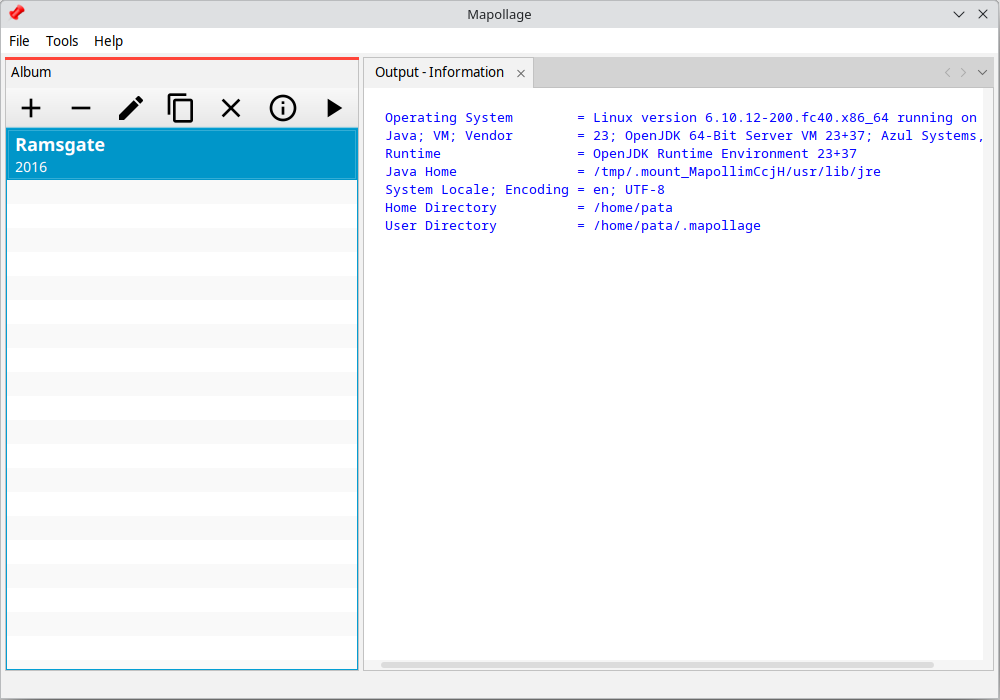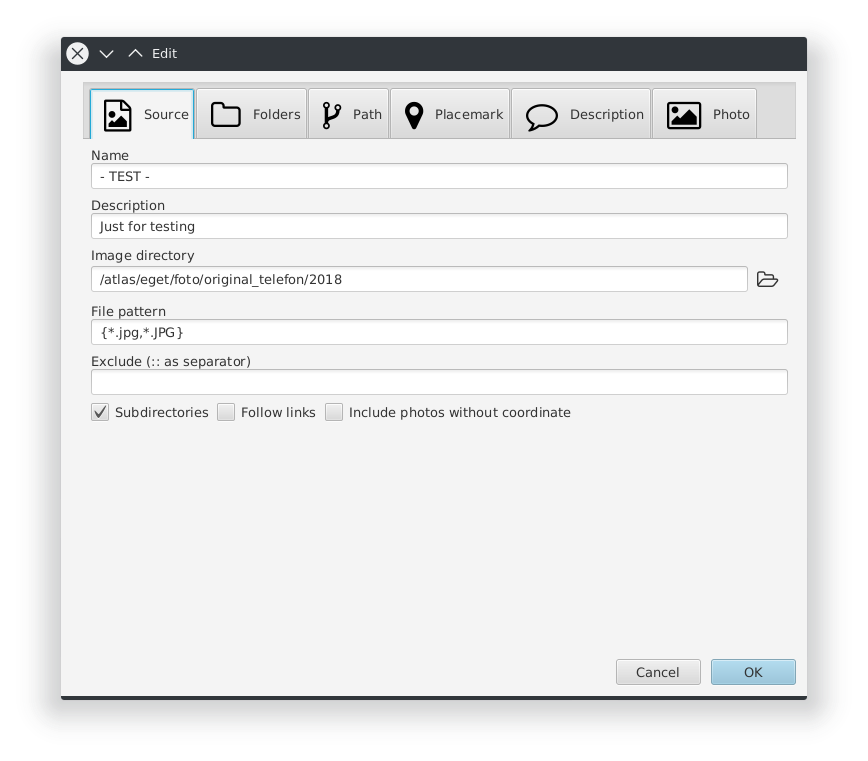 What do others say?
"That's it. The newly created KML file can now be opened with Google Earth."
– WebUpd8: Import your geotagged photos in Google Earth with Mapollage (kml file generator)
"Its simple interface and broad set of functions make it highly accessible to a wide range of users while still maintaining a high level of efficiency."
– Softpedia: Quickly create a photo KML document from your geotagged images
Release history
Version 2.1.0  (2021-02-26)
Version 2.0.1 (2018-12-15)
FIX: There was a major issue in the profile default settings related to folder structure and polygon generation. It is now resolved.
Version 2.0.0 (2018-07-15)
OPT: Major UI changes, now using JavaFX.
Version 1.1.1 (2017-09-10)
NEW: Added support for external description files.
Version 1.1.0 (2017-08-14)
OPT: Improve configuration file management.


NOTE: Users upgrading from an earlier version should be aware of that the new profiles are stored in ~/.config/mapollage/mapollage2.profiles. The old ones are located in mapollage.profiles. This was done in order to improve configuration management. I'm sorry for any inconvenience.
Version 1.0.9 (2017-06-28)
OPT: Update Darcula look and feel, fixes issues on MacOS.
FIX: Corrected and added missing translations.
Version 1.0.8 (2017-05-14)
OPT: Major UI improvements
Version 1.0.7 (2017-04-02)
FIX: Tab enablement
FIX: Don't append information tab content
FIX: Check for write permissions before file scan
FIX: Create thumbnail directory after file scan
Version 1.0.6 (2017-03-25)
OPT: Allow zoom values down to 1.0
FIX: It's now possible to cancel operation during file scan
FIX: Exclude now respect OS case sensitiveness
FIX: Handle images with no exif and percentage sign in filename correct
Version 1.0.5 (2017-03-12)
NEW: Mapollage is now mac friendly
NEW: Added menu mode switching (bar/button)
NEW: Added progress indicator
NEW: Added an option to open generated file after completion
NEW: Added help menu link
NEW: Added thumbnail as an image reference
OPT: Improved default values
FIX: Minor UI improvements and fixes
Version 1.0.4 (2017-03-04)
NEW: Exclude file path containing filter.
OPT: Improve messages and error handling
OPT: Rotate thumbnails
OPT: Add .jpg extension to thumbnails
FIX: Create folders by regex
FIX: Absolute image reference on windows
Version 1.0.3 (2017-02-26)
NEW: Add path generation
NEW: Create folder structure
NEW: Add profile information tab
FIX: Display bearing (if available) in description
Version 1.0.2 (2017-02-26)
Revoked
Version 1.0.1 (2017-02-23)
NEW: Add (optional) timestamp to placemark
FIX: Treat zero coordinate as null coordinate
Version 1.0.0 (2017-02-21)
Credit
Mapollage is built using the following open source libraries
and with an icon from jhnri4.